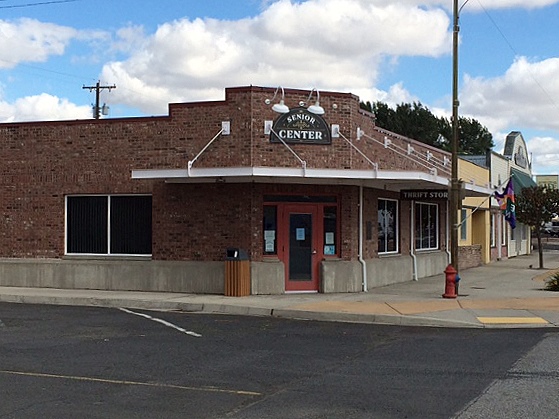 The Wilbur Senior Center is located at 101 NE Main Ave, on the corner of Main and Knox. They offer hot, homemade meals, discounted items in the Thrift Shop, exercise classes, and other social activities. Stop by or call for membership information: 509-647-5503
2023 Officers and Board of Directors President: Don Rolfe
Vice President: Bob Davis
Treasurer: Tom Simurdak
Secretary: Betty Botts
Trustees: Gary Simms, Sara Rice, Margaret Ferguson
The Wilbur Senior Center Thrift Store is open from

10:00 a.m. to 3:00 p.m. Tuesday through Saturday

.  The Thrift Store relies on donations from the community to keep the shelves stocked and doors open.  All proceeds, in turn, are used to keep the Senior Center operational.  Volunteers are always welcome!
SENIOR MEALS: The cook serves up delicious lunches four days a week at noon! Reservations required; call 24-hours in advance: 509-647-5503. Suggested donation of $4.00 for seniors 60+ and $10 for under age 60. ** Home delivery on preapproval – call the Senior Center for info ** Transportation to and from the Wilbur Senior Center is available via People for People bus system; call the Senior Center or People for People at 1-800-851-4204 ext. 555.

TRANSPORTATION
The Lincoln County Connector bus service, provided by People for People, runs along the Highway 2 Corridor. It makes stops in Coulee Dam, Grand Coulee, Wilbur, Creston and Davenport with connecting service to Spokane and Okanogan County. Transport is open to the general public and service between Coulee Dam and Davenport are FREE!!  To ensure seating, call 1-800-851-4204 Ext. 555 between 8:00 a.m.-4:30 p.m. at least one business day in advance. Riders must wear a mask. For more info and services times, visit www.pfp.org.