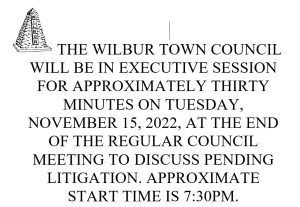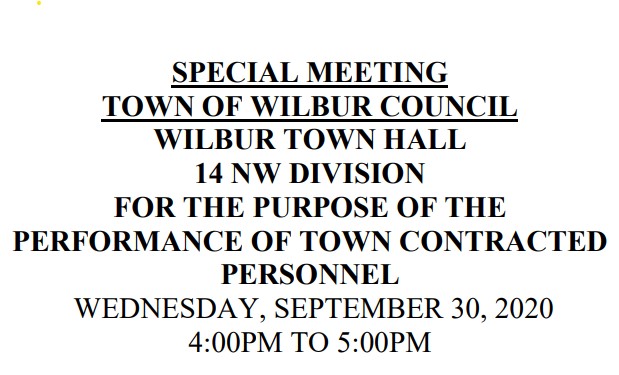 ****
The Town of Wilbur notifies residents of an upcoming increase on water and sewer rates, which was passed unanimously at the Town Council meeting on September 15, 2020. For more information, contact the Clerk's office at Town Hall, 509-647-5821, Monday through Friday.
****
The Town of Wilbur hereby announces its fiscal year 2021, 2022, and 2023 goal of 1.7% for Disadvantaged Business Enterprise (DBE) airport construction Contracts. A public telecom will be held on September 11, 2020 at 10:00 am. If you would like to participate please reach out to Rick Nichols at rnichols@centurywest.com for meeting details. The proposed goals and rationale are available for inspection between 8:00 a.m. and 5:00 p.m., Monday through Friday at:  Town of Wilbur, 14 NW Division Street, Wilbur, WA 99185
****
The Town of Wilbur is pleased to announce that the $5,000 Innovia Grant was able to help a dozen residents with their utility bills. We hope this will help ease some of the hardships caused by the COVID-19 pandemic. Thank you for applying for assistance!
PUBLIC NOTICE: TOWN COUNCIL BUDGET MEETING/PUBLIC HEARING, 6:00 P.M. ON 9/15/20 AT TOWN HALL. TOPIC: CURRENT EXPENSE FUND/PROPERTY TAX LEVY
Town of Wilbur, Special Meeting Notice
Monday, June 22, 2020 at 11:00 a.m.
Notice is hereby given that the Wilbur Town Council will hold a special Town Council Meeting on Monday, June 22, 2020, Commencing at 11:00 a.m. at Town Hall, located at 14 NW Division Street, Wilbur, WA 99185.
For further information, contact town hall at 509-647-5821.
Dated this 19th day of June, 2020
March 26, 2020
In conjunction with Governor Inslee's proclamation 20-28 the Public Records Act has temporarily been amended as; the 5 day response has been waived.  
The Town of Wilbur will provide a response to all record requests in a reasonable time given the situation and limitations.
3/24/20 The regular Town Council meeting for April 1, 2020 has been canceled.
3/24/20 WILBUR TOWN HALL IS CLOSED UNTIL FURTHER NOTICE.
3/17/20 CORONA VIRUS RESOURCES-
While the shut downs related to the Corona Virus are imperative to help minimize the risks to the public, there is the potential for some negative impacts to the community.  Below are some links to resources related to the virus (this is not a comprehensive list- just a starting point).  
Small business assistance and links to other assistance areas.
What to do if you have symptoms or have been exposed. 
Healthcare recommendations and best practices. 
COVID-19 Statistics in Washington.
Expanded benefits for workers impacted by COVID-19. 
Benefits for employees directed to isolate or quarantine. 
Temporary Layoffs related to

COVID-19. 

Job loss related to

COVID-19.
Quarantined health care workers and first responders.
Resource list for impacted Washington businesses and workers. 
Financial Assistance. 
Employer and workers assistance. 
Insurance assistance.
School Closures. 
Information and guidance for parents.
Health insurance. 
Travel insurance. 
Business insurance.
Washingtonians without health insurance: the Washington Health Benefits Exchange opened a limited-time special enrollment period through April 8, 2020.
Information about state veterans homes.
co.lincoln.wa.us/public-health 
Lincoln County statistics and recommendations.
---
2/3/2020 There will be a Special meeting of the Council on Wednesday February 5, 2020 at Town Hall beginning at 5:30 p.m.  The regular Council meeting will follow, beginning at 7:00.
1/15/2020 *MUNICIPAL ENGINEERING SERVICES- The Town of Wilbur will accept Statements of Qualifications from firms interested in providing professional municipal engineering services during the 2020-2021 calendar years.  Click Here for more information  
12/27/2019 *DUE TO THE HOLIDAY, THE REGULARLY SCHEDULED TOWN COUNCIL MEETING FOR WEDNESDAY JANUARY 1, 2020 HAS BEEN CHANGED TO THURSDAY, JANUARY 2, 2020 AT 7:00 PM.

12/27/2019 *TOWN HALL WILL BE CLOSED ON TUESDAY, JANUARY 14, 2020 FOR TRAINING.

12/27/2019 *EFFECTIVE JANUARY 1, 2020 TOWN HALL HOURS WILL BE MONDAY THROUGH FRIDAY 9:00 AM TO 4:00 PM.

12/3/2019 *CHRISTMAS GARBAGE PICK UP CHANGE- ALL garbage for the town will be picked up on Tuesday, December 24, 2019. There will be no garbage any other day that week.

11/8/19  *DUE TO THE HOLIDAY, THE REGULARLY SCHEDULED TOWN COUNCIL MEETING FOR WEDNESDAY JANUARY 1, 2020 HAS BEEN CHANGED TO THURSDAY, JANUARY 2, 2020 AT 7:00 PM.