Wilbur's Town Hall is open to the public Monday-Friday, 9-4 p.m. Closed for holidays. The Town of Wilbur's utility payment options include: pay in person at Town Hall, the envelope drop box outside the main doors, online bill-pay with a credit card or mail a check through the Post Office. Remember to include account number with payments.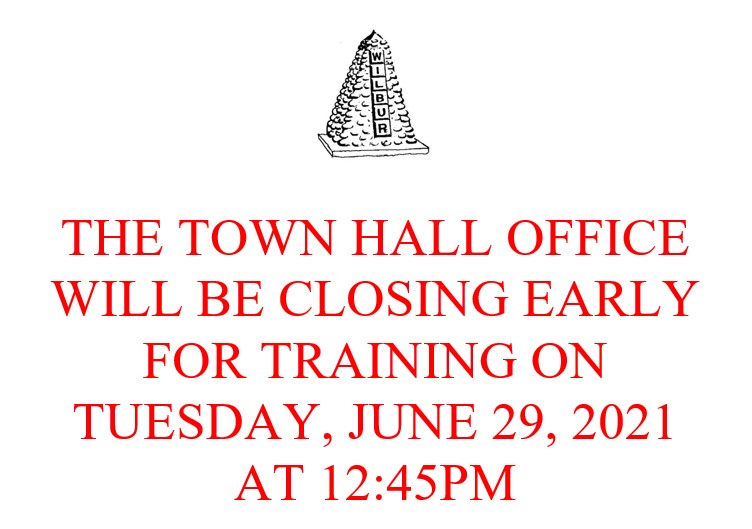 Mayor Statement Regarding Mask Requirement:
On July 7, 2020, Washington State Governor Jay Inslee extended and clarified his Safe Start proclamation until August 6, 2020. Under these stricter guidelines, "individuals are prohibited from entering a place of business without wearing a face covering," and businesses may not conduct in-person business with a customer unless he/she is wearing a face covering. There are, of course, health exceptions, but the standard set forth by Governor Inslee's proclamation is essentially, No Mask, No Service.
As a fellow resident and patron of our many wonderful small businesses in and around Wilbur, Mayor Erica Hearrean is aware of the burden this rule places on merchants. It is not easy to enforce a rule that you, as an owner, had no hand in making. It can also be difficult to confront customers who are also your friends and neighbors and demand that they conform to the Governor's mask requirement.
It is for those very reasons that Mayor Hearrean asks Wilbur residents for their patience and understanding when patronizing local businesses. She encourages everyone who is able, to wear a mask without a fuss and to be supportive of local merchants' efforts. These new guidelines are not their choice, but they do run the risk of being fined for non-compliance.
We all love our small community and want to keep it thriving and strong both through these challenging times and well beyond. Help our businesses stay open, stay busy and stay healthy – please wear a mask when you go inside. With a supportive attitude we can all get back to "normal" sooner!
Wilbur Mayor Erica Hearrean, July 13, 2020

MESSAGE FROM MAYOR ERICA HEARREAN:  Each day information about COVID-19 virus changes. The Town of Wilbur wants our citizens to know that we are working to reduce the spread of the disease, while providing critical services. Mayor Hearrean realizes that many of the citizens of Wilbur have been financially impacted by COVID-19 shutdowns and hopes to alleviate some of those stresses.
There will be no late fees assessed to utility bills and no water disconnects processed until further notice.
Mayor Hearrean also encourages anyone needing assistance to please reach out to a friend, a neighbor, a church, or to her directly. It is very important for us to do what Wilbur does best- take care of each other! This is a very difficult and unprecedented time, but we are a strong and supportive community. Let's adapt and overcome!
"One of Wilbur's greatest strengths is that we are a small compassionate community and that we care deeply about our neighbors! We will come together in these trying times and we will thrive once this crisis is over!" Stay Healthy, Stay Safe and Stay Home!
Council Meetings are the 1st and 3rd Tuesday of each month at 7:00 pm.  Meetings are held at Wilbur Town Hall. The next regular council meeting will be on July 21, 2020. Check back here for the Zoom link the week of the meeting.
During the COVID-19 pandemic, Governor Jay Inslee has issued limitations on public meetings for all Washington State municipal governments. Prior to the meeting, please find  a link on this website to listen in via an online server or a number to use a telephone.

Easily access Wilbur's Municipal Code, all Town Ordinances and Resolutions by clicking here.